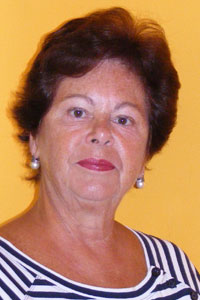 About Ana Howe, Owner of Here's Howe Catering.
I was born in Rio De Janeiro, Brazil, and moved to Connecticut as a little girl. I started my career working with Martha Stewart in her home in Westport, Connecticut.
It was there that my son Tony was diagnosed with Duchene's Disease, a form of Muscular Dystrophy that breaks down the muscles. After unsuccessful searches for specialized, healthy food he would eat, I decided to prepare his meals myself. I took a few courses at The Culinary Institute of America (CIA) and learned about cooking healthy and healthy food preparation methods. While attending classes at CIA, preparing for Tony and working with Martha, my passion for food exploded.
I started working in various kitchens, learning all I could. I worked my way up to become the Director of Special events for Reader's Digest for 12 years. There, I prepared events for Diane Sawyer, Barbara Walters, Henry Kissinger, and Jackie Onassis.
After Reader's Digest went public in 1992, I moved to Naples, Florida, where I worked with a few local catering companies. I knew I had something different to offer the Naples community through cooking and event planning and I decided it was time to start my own catering company. Here's Howe Catering was born!
Today, I live in Naples with my dog Uno and my two cats Mya and Nutmeg. I have 2 daughters and 2 grandsons, Nicholas and Nathan. Although my son Tony has passed away, I  think of him daily and I prepare food for all my clients with the same love and care that I showed in preparing his meals.
Thank you for reading. Until next time…
Ana